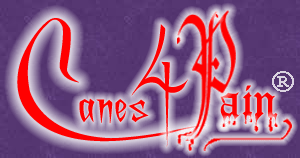 by WhypDancer

Reviews

These are comments and photos that people have sent to me about the website and my work. I hope they bring you a smile! They are in no particular order. Many were lost in a hard drive crash ::pout:: If you'd like to add your comments, tales, or photos about my (ummm ok.. your) canes in action, please do!
"You should produce branded canes for Starbux for those who need an extra kick in the ass"
(whyp's note: Starbux name changed so we don't step on anyone's trademark)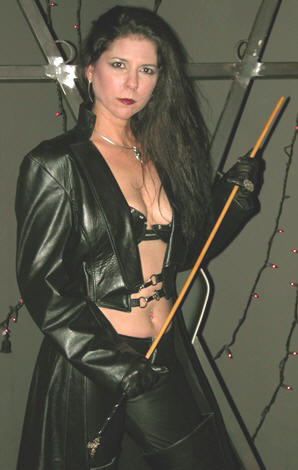 __________
Can't wait to try them out! I have a client first thing in the morning, naughty Sissy Karen, who is (unbeknownst to her) kindly going to offer her opinion, well...her rump really, in order for me to test out my new babies!
__________

Just wanted to write you a note...the package was
delivered about ten minutes after I replied to your
last e-mail earlier today.
The cane quite literally took my breath away...to say
that it is beautiful is an understatement...it is a
work of art. I have been prancing about the studio all day with my scepter/cane...it suits me perfectly.

---
The bamboo birch rod arrived safely and it really is a work of art. Thank you so much. Itís a joy to look at and my Top canít keep her hands off it! This was my first order with you, but it sure wonít be the last. Iíll be in touch with you again very soon.
---
On our Traditional Birch Rods: "R" came over the other night and gave me a few whacks and I was really screaming and she said she did not do it that hard. She liked it. This weekend I am going to be subjected to it full force - a pre-determined number of switchings with no safe word.
After the weekend: last night she did an extended session and it was brutal. She is saving it for those occasions when she really wants to make a statement. Will be caned next week and I think I can take that better than that switch.
---
The canes arrived safe and sound today. They look magnificent.
---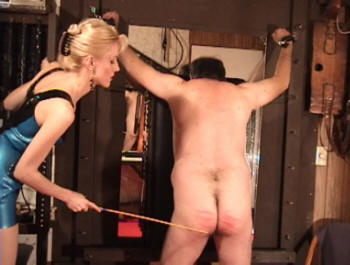 This is Mistress Karin von Kroft letting Bob have a taste of one of the canes he bought for their enjoyment. This is a Blue Ballsy cane (found in the Royal Pains Collection), and the Blue *perfectly* matches her blue latex outfit. Great job on color coordinating, Bob!! And kudos on the great contrasting red stripes!
Bob's comments:
Hello,
i ordered two canes from you recently, they pleased my Mistresss and were delicious on my bottom. i have attached a picture of Mitress Karin using one on me. thank you again for your help and fine products
---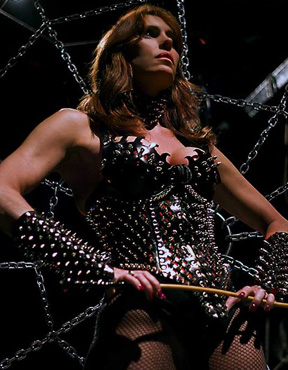 Goddess Phoenix of Atlanta with a 9mm Black Glossy Cane in the DomCon Atlanta dungeon at Club 1763
---
Mistress Ellen (The Queen of Hearts)
with the sterling silver and pearl Lily of the Valley Cane, at DomCon Atlanta, 2009
Mistress Ellen, 2009
---
http://www.fresh.sissify.com/canes-for-pain/
From the artist Veronica Vinyl:
When i go to a fetish convention and look out over all the goodies the dealers have brought to tempt, tantalize and seduce what few meager ducats i have in my clutch purse… i must steel myself. So many pretty pretties. So many wicked Wickeds. Latex, leather, plastic, pyrex, metal, satin, crinoline, a thousand textures all demanding my attention and tactile experience. But the booths i'm most drawn to are the booths where the artisans and craftspersons are working. The One of a Kind items; Fetish Works of Art. These living anachronisms who sell these glorious lovingly hand made implements of pain and pleasure are the true heart and soul of the BDSM scene. And when i think of beautiful hand made original Fetish toys, i immediately think of the wonderful WhypDancer and her amazing Canes 4 Pain

Now granted, i'm a fetishist and i like pain in my play. Spanking paddles, whips floggers etc, etc…. but canes are another matter. A cane in the hands of a brilliant administrator of corporal punishment can be an amazing experience. A humbling, agonizing experience, that will change up a errant slaves outlook with the whistling speed of a single stroke. It's also an experience i avoid like the plague. A striping by cane is a serious matter for me. It is pain like a wasp sting. A pain that grows and builds even after the first stroke. A kind of sting that goes all the way to the bone, bounces off the bone, and goes immediately to the brain to file a complaint with the cerebellum. i mean it hurts. A lot.

So here is WhypDancer… smiling her pleasant and friendly smile sitting at her booth banging away at piece of fine silver sheet making a rose bud. A innocent scene of an artist at work. And here is me being drawn in towards her booth like the complete idiot that i am. What is that draws me in? What makes me come so close to look at the things that scare the poopie out of me at the mere mention of the word cane? WhypDancer doesn't simply make canes, she makes slender royal scepters… magical faerie wands. Exquisite ornate sterling silver and bejewelled wonders. And this girl likes shiny, pretty things. Deceptive beguiling enchanting and evil.. Pure unholy evil.

Nothing so phantasmorgically whimsical should be capable of illiciting the kind of heartfelt and impassioned screams that they do. It goes against the laws of Disney. Its unnatural i tell you. But there they are. i just pray that Mistress Alexia doesn't walk by and notice them. Please pray with me. You cant possibly see how a fabulous lady can resist these evil instruments looking so elegant and commanding such attention. Beautiful accessories that one could picture a evil faerie tale Queen reaching for to punish the alabaster white perfect skin of a usurped Princess. Or perhaps the decadent and jaded Mother Superior of the convent seeking to instruct her young trembling noviate in the finer points of suffering.

This is some amazing and beautiful stuff and WhypDancer in my humble opinion is the very best at this little niche of BDSM She has set the bar so high, it is hard to imagine anybody catching up. If you are a devotee of the toys and implements of torture… then you need to own a selection of WhypDancer's canes. If you are discriminating Dominant Woman then it would be hard to imagine that you haven't held and swung one of WhypDancers beautiful slender corporal teaching aides. Her work is that essential to the aesthetic of BDSM Role Play and the image of the Dominitrix .

i really do want to give one of these to my Mistress as a gift one day. You know, when im feeling completely insane, or am tired of life. Perhaps when i have suffered some terrible nerve damage and can no longer feel anything below the neck. Yeah that's when ill do that. Oh what a wicked Qaundry You have presented me with WhypDancer. Beauty to be afraid of Now that is truly Divinely Decadent .
Carpe Noctum
Veronica,
As the person who commissioned the cane which you saw Whypdancer working on, let me include praises of not only their beauty, but her wonderful talent in creating canes with wonderful balance, flex and weight. They are as excellent to use as they are beautiful. I have had previous submissives travelling nearby ask (and beg) to stop by for a caning, since the quality of the canes used by their current partners did not allow the artistry that WhypDancer's creations can create. I can gladly give my opinion that WhypDancer is the foremost artist in her field.
So, consider the pride and joy with which your Mistress would recieve a gift of one of WhypDancer's canes, and how it will always be a memorial of your tribute to her.
---
Shadow Lane Post

I can't resist checking out a new site for buying cp equipment, so when I saw whyp's handle I checked out her site. www.Canes4pain.com

Whyp, you are a true artisan. Your canes are gorgeous from the simplest design to the most ornate. Your website is well made and truly informative, your digital pics very well done, and your canes are absolute stars.

In the past, canes in my collection received the least amount of care of all of my implements. I'm now convinced that was so because I was buying crap. To ill-use or mistreat one of your creations would be heresy.

As well, your cane designs invite ritual to be inacted in a scene. How can one play with one of your canes without some sense of ritual? It would be impossible. Thank you for turning one of the most severe and traditional...not to mention erotic...implements into objects of beauty and mastery.

I hope you are going to have a vendor table at Palm Springs, I will certainly be buying if you do. If not you can expect an order from me sometime in the next quarter.

Anyone who appreciates high quality and fairly priced spanking implements should check out whyp's site. Even those spanking enthusiasts who are nervous about the severity of caning should check it out. Canes can be used for light or moderate play, and as we all know, never need draw blood. For those that would only pull a cane out for special occasions...well you should own a special cane then, hmmm? And I can't imagine a classier implement of discipline for Mistresses. Even the simplest of the jewelled handled canes on this site would lend a regal air to a Domina.

Personally I love the cane, both the physical punishment of it and the ritual. Most of the other canes I've see sold are poor shadows of these fantastic works of art and discipline.

Brava, whyp, Brava.

---
I am so excited!!!!!! I have a session with my Daddy on Saturday, I'm going to surprise him with it! He's a big fan of yours...
---
MMMMM Whypdancer, how can I not post your link dear..I visited your website and was awestruck at the incredible beauty and craftsmanship of some of these canes!!! The link is posted in the links section..and I may be one of your customers very shortly. I am especially enamoured by the "Crown Jewels" collection of canes. I can only imagine how lovely and Goddess like it would feel to wield one of those beauties!!
---
Hi WhypDancer,
First of all congratulations for your fantastic webpage. Me and my friends here in Barcelona are very impressed of your products.
I would like to order the following canes:
---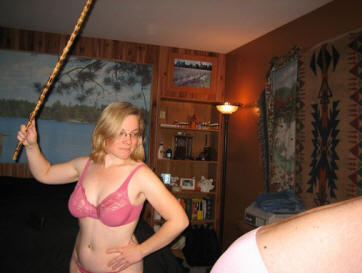 NurseAlhara on Fetlife using her Whangee Cane
From NurseAlhara:
---
Dear whypdancer,
I just spent over 45 minutes on your website for the first time.. your canes are absolutely as awesome as they are beautiful! I wish I had seen your site much sooner.
---
My canes have played a part in many weddings and collaring ceremonies. The photos below are of a couple's wedding, in Spain. I always feel very honored to know that my work plays such an important role in people's ceremonies, and their lives. It's like a little part of me is with them, even if I can't be.

Dragon cane on wedding invitation and in ceremony: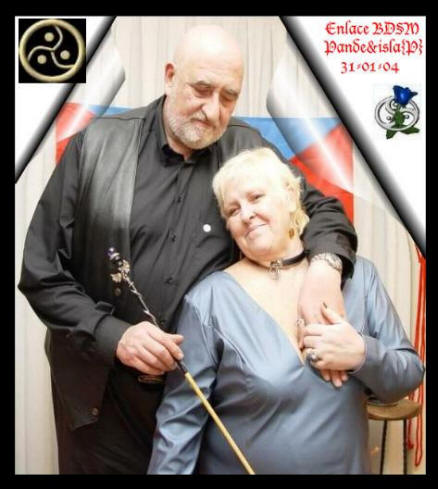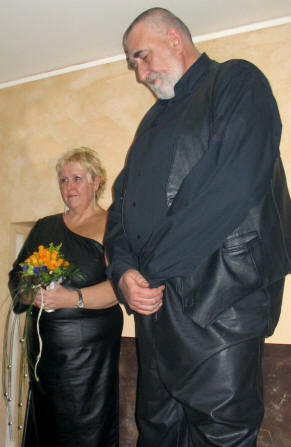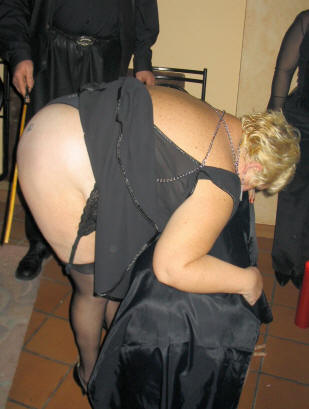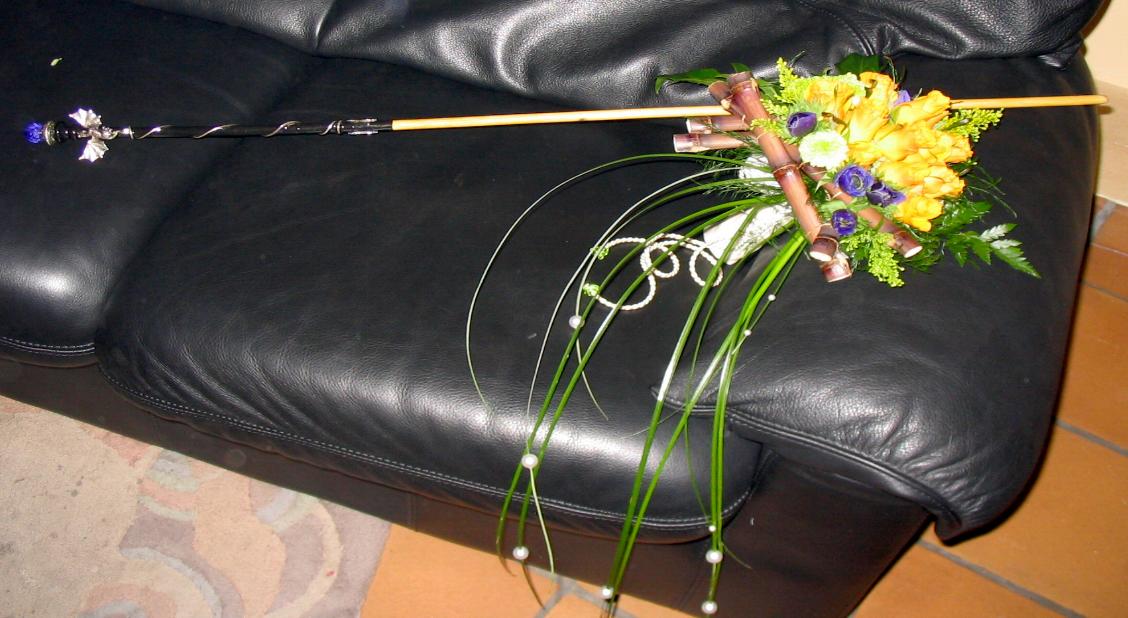 ---
Just wanted you to know that the special canes I purchased in Palm Springs were well received by both nice ladies I gave them to. Your beautiful work was much appreciated.
---
From Brian, at time of order:
Your canes are great - I like the fact that you prepare them properly with oil, etc.

... and after he received his cane...

I just got it - WOW! This is a work of ART! THANKS!!!

---
I have received today the canes and I am very pleased.
I am sure that this was not my last order.
I wish you all the best for your business.
Kind Regards
-A
---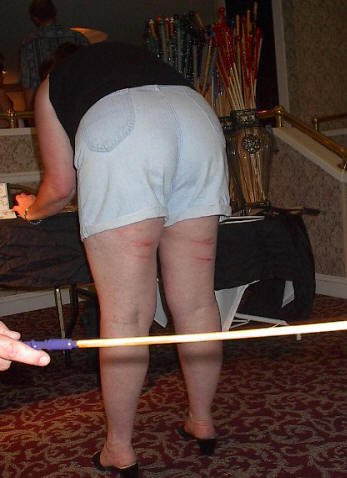 This is part of what makes vending at events so much fun.
I get to meet people and get to see how much they love my canes. These photos were taken at a Shadow Lane party in Palm Springs, CA. Great party!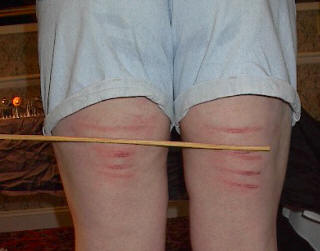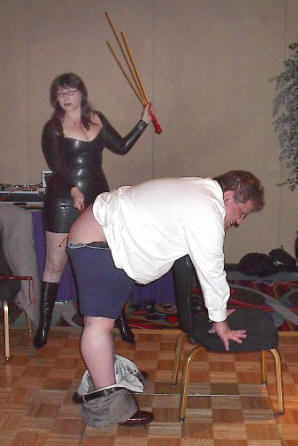 Stephanie Locke breaking in new canes at the April, 2004 Shadow Lane party in Las Vegas.
---
Thank you very much. I look forward to seeing the canes, and since they will be gifts, to getting them to the recipients. I know they will be pleased, as I know that you do beautiful work.
---
Dear WhypDancer,

I have been instructed to buy canes from you for exclusive use on my own bottom. You and my friend/instructor would probably be pleased to know I'm trembling and shuttering with excitement as I do this.
Thanks (she says, biting her lip)!
~N
---
Hello.. My friend recently ordered us two new
canes. We are so happy, that I want to surprise her and
order a 'MultiCane'..
---
from www.TheSpankingNews.com:
Canes4painģ
Offers some of the most amazing canes I have ever seen. Check out all the different styles.
---
I almost quit looking for a cane tonight until I found your website. The
quality of your products is very evident from your site. I am sure we will
be pleased with our purchase.

---
Thanks, the item arrived yesterday and I got a phone call from the lady that got the package and told me both canes arrived in a PERFECT shape, I shall give the Dragon one to the couple that is getting married on 27th December, I shall ask them for a pic or two of the use if possible so you may use it on your website :)

And about the other cane (a junior one) I am afraid this lady has loved it SO much that she plans to use it on me so I am afraid I hate you at the moment, LOL, and I think her boyfriend hates both of us (you because made it and me because I gave it to her as a present), anyway I shall try to send you one or two pics of that cane also and you may be ready to get a few more orders from this side of the pond(Spain), it seems people are going to love your work.
Thanks again, Fran and hugs.
Juan
12/10/03
---
Hello Fran,
I wanted to let you know that I have thoroughly enjoyed the cane that I purchased from you last spring (although my lady would beg to differ). However, due to my sub's increasingly errant behavior, on top of my mounting intolerance for it, the time has come to up the ante.

I would like to purchase from you a disciplinary cane. To be sure, this is the one that is 3/8" thick, 36" long, and has a crook-handle. Hopefully this more traditional and severe cane will drive my message home all the better.

I trust that you will select for me the one with the straightest shaft possible, as I take pride in my accuracy.

Thank you very much, and best wishes.
---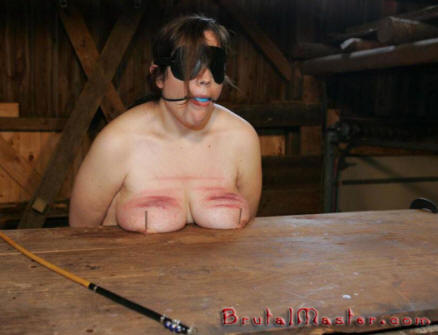 A Crown Jewels Collection cane in Sterling and Lapis was used to film
"Cow: Marking the Udders" at www.BrutalMaster.com
---
I received your Singapore cane yesterday that was bought for me by Jimmy. Thank you for your note too, and I looked at your website and am very impressed by all your beautiful canes! The jewel handled ones are lovely. ~Dana Specht
---
A cane like that deserves more time for praise. It is absolutely stunning. I LOVE that amethyst stone and setting! Do you have any history or description of it's quality? I've never seen a stone like that.
---
I just wanted to let you know that I recieved my cane yesterday and it is everything that i thought it would be. You did an excellent job!!! Thank you very very much....

---
WOW---- WOW... really impressive. It looks fabulous. I never dreamed it would be this beautiful. Thank you sooo much. It's fantastic. I want to use it soooooooooo bad.
---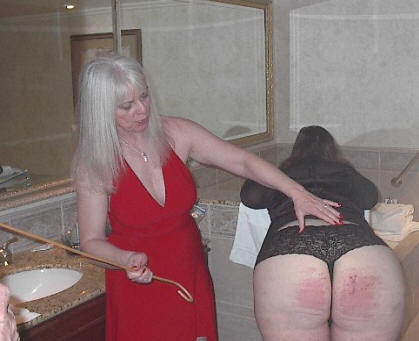 Disciplinarian Dana Specht playing "cane the canemaker" at the February, 2006 Shadow Lane party in Las Vegas.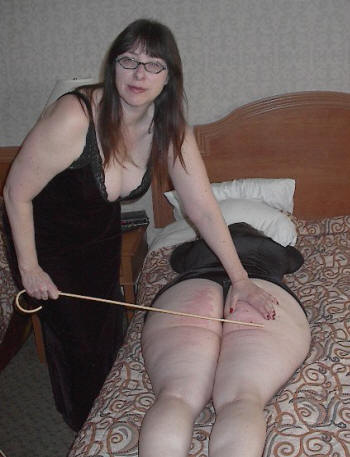 Stephanie Locke playing "cane the canemaker" at the Las Vegas party.
---
I have been saving and waiting to purchase a cane for my Master he is a wonderful Master and your cane will be a very special gift to him from me.

Thank you so much for your quick reply I am so excited to order this for my Master. He is indeed one of a very few who truly understand how to treat his slaves. He saved my life in more ways then I can say and he has shown me more happiness then I have ever known in my life. He and that wonderful cane were meant for each other.
Your craftsmanship as well your artistic ability and your commitment to quality sets the grade. Anyone who looks at your work can feel the part of yourself you put into each one. As a nurse in a pediatric intensive care, I see my work as more a part of who I am not what I do. I get the same feeling when I look at your work. You are a very talented and gifted woman. It is my privilege to own one of your pieces. As I said earlier, I have been waiting and saving to buy this for my Master and the odd part was I took him to your web site and he began to look around. He was so very impressed. And as fate will often have it, he picked out for himself the exact same cane that I had wanted for him. It was a bit odd. I can assure you it may be my first purchase here but it will most definitely not be my last. I am positive Master and I both will enjoy this gift :0) I am more then a little excited and your cane is the perfect touch to this very wonderful time. I cannot thank you enough for all the time and trouble you have gone to. These are as high quality and frankly reasonably priced as one will ever see. I have been a fan ever since.
---
I have purchased a couple of your canes, including last Valentine's day work of art. In fact, my Top used that one on me two weeks ago - very hard... it's holding up great (and I'm not doing to bad either :-). When she was using it then she commented on how pretty it was. I think she will really like this one - her colors are silver, black and purple.
Thanks again!
---
---
I was wondering if you still have the Moonstone Sun Cane that was featured on Moonstone page? If not, do you have anything similar in stock? I was hoping to give it to my Master as a Valentineís Day gift. I purchased a few canes from you this past June for his birthday and they have quickly become our favorite toys. <EG>

Hi fran,
I just wanted to let you know that the cane arrived safe and sound. It is beautiful!! Thank you! I canít wait to give it to my Master on Saturday <EG> Thank you again for everything! <trying to think of the next holiday so I can go cane shopping again!>

---
I would like to purchase one for a very special Sir that is very dear to my heart...and One that I hope to be worthy of someday....perhaps soon! He has spoken of you and your products many times, so I'm sure that you most likely have at least chatted with him.
---
Dear Whyp,

Thank you so much for your information about your lovely items.

I had the pleasure (yikes!) of getting intimately acquainted with two of your canes last weekend and I hear my sweet Sir has purchased one of your limited edition garnet Valentine's Day canes that he will be introducing to me next weekend.... hmmm... not sure whether to thank you or curse you! LOL... just teasing!

Thank you for the lovely work you do... you obviously put a lot of thought into your craftsmanship and design.

A very contented V :)
---
Do you still have any of the cameos, that you mentioned in the "Cane Gallery"? They are just lovely and we might be interested in something using one of them . I am a firm believer in doing a good job rather than a fast job, and it is clear from having seen, and owning some of your pieces what an artist you are. I wish you made jewelry too!. You are limited in the places you can show off a gorgeous cane! LOL
---
Dear Whyp,
I am also a member of Crimson Moon and will be at the party in July as well.
Just wanted to let you know that I saw your website and was really impressed. You do beautiful work and it's evident that you put a lot of hard work and effort into making your canes.
As someone who is a big fan of canes, let me say I hope you do very good business at the party. If I have the funds, I might just start buying my own canes. LOL
At any rate you can certainly tell a bottom/submissive designed and created these beautiful stingers. Even the birch rods were gorgeous...I'm a big fan of those, too! LOL.
I love your work and look forward to seeing your canes and you at the party.
---
You make the most beautiful canes I have ever seen!
If it's ok with you, I would also like to add you to
my favorite sites page.
---
I think you will love Tes Fest. You can even check out Paddles (s&m club). PS I went to a cane demo today and a fellow sub Mike had one of your canes. I told him that I had a few and how much I love them all.
---
My compliments on your artisanship. One always questions one's worthiness using such a work of art.
---
You have one of if not the MOST BEAUTIFUL work on your site. I was drooling at the workmanship, saw 3 of 4 that I loved, and just wanted you to know, those are gorgeous and very well made. My hats off to you Maam for uniqueness and originality very well made.
---
I picked up the canes at the post office this morning. They're so
pretty, and each one makes a differently-pitched swish!

Thanks so much, Fran. Now the tough part will be waiting until it's
gift time...
---
I am really very impressed with your product, your work, and your service.

The cane is really very impressive. Believe it or not I have never seen,( or felt), a true english school cane, despite having been in an English boarding school in the early sixties !!!! I somehow managed to actually avoid getting it, but I have had a lifelong fascination with them.

Your excellent product has made me want to buy the same size as this one, but with the traditional bent handle.

---
Fran,

Just wanted to let you know I got the canes; they look and feel
terrific, just what I wanted.

I have one of the birches soaking right now for my sweetie to try on me, before I inflict it on anyone else this weekend. They
seem delightful, and I can't wait to try them out. (I have long
experience with canes, but none at all with the birch, and have heard
so much about their unique sensation).

Cheers
---
Thank you again for your beautiful red handled cane. I have a naughty boy in the UK who is dying to see me in action with it and I'll be sure
to use it in my next video. I'll also give your site honorable mention in the description I write up for the video. I also want to swap links with you so if you could send me a banner I'll send it to my web master so he can add your canes to my links page.
---
Hello, I purchased one of your beautiful canes for my Master. He named your cane. "Dancer," she is beautiful, and I have experienced her.."sting" first hand ... and as I said before, she is one of a kind, perfect for my Master as he too is one of a kind, not another like him in the world. He really loves your work and his cane, and had expressed a desire to get another one from you. His birthday is approaching soon, and I think it would be a lovely gift, but I wanted something very special, as I have recently begged his collar real and proudly have earned it. I love my Master very much and as he has been in this lifestyle for more then 40years, he sees the quality of your work, and I was hoping you could help me find something special for him...
---
My new cane is even more evil than the first one. It is delicious and i am striped very nicely from it. Thank You again.
---
Hi,
Just wanted to let you know how pleased my lady friend is with her canes. Thanks!
---
Just to let you know that the canes arrived today. They look great and I'm looking forward (I think...) to trying them out. Thank you for all your help! I know where to come in the future for my canes!
---
Hello WhypDancer - I would like to order some canes. I tested a couple at the recent Shadowlane party and have now made my selection. Not sure that my partner agrees completely, but I am sure she will come to love them in time!!!
---
Fran...it has arrived!!!! my jingle cane is lovely!! that delightfuly evil little tinkle sound is wonderful! thank you :)
you will definately be getting more orders!!!

---
Hello,
I have never seen anything so beautiful as your canes.
---
---
I got the canes today. Wonderful pieces of craftsmanship and I know they will give enormous fun and pleasure. Thanks!!
I will soon be back.
---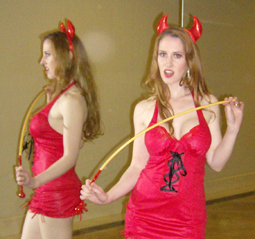 Natali Demore of
Bondage Orgasms
, with a 9mm Red Glossy
---
---
Hi Fran - just thought I'd let you know that the canes were a great success. They certainly left a good impression on her, especially the birch which was really quite deceptive in its impact. And then I went and made the mistake of complaining about her map-reading competence when we were out driving. So now, I can speak from first hand experience when I say that the canes really have a bite to them.
Thought that might amuse you. Best wishes -

---
I LOVE my new cane.....It's absolutely beautiful.

---
I'm the guy that was there earlier on Friday (while you were setting up) and purchased one of your canes. My oh my, what a wonderful implement. I have only tried it on myself, the best I can of course .... not like having it used on me. But I could tell right away this is going to be a lot of fun. The sensation and the sound are both exciting. I discussed it with my Crimson Moon friend. Might have to buy her one in Chicago
from you
---
I just found out that you and your canes will be at the Crimson Moon party in July! Terrific! So terrific that I would like to purchase some of your work as soon as you arrive - no need to wait until the vendor fair
---
Dear Whyp,
I am a member of Crimson Moon and will be at the party in July as well. Just wanted to let you know that I saw your website and was really impressed. You do beautiful work and it's evident that you put a lot of hard work and effort into making your canes.
As someone who is a big fan of canes, let me say I hope you do very good business at the party. If I have the funds, I might just start buying my own canes. LOL
At any rate you can certainly tell a bottom/submissive designed and created these beautiful stingers. Even the birch rods were gorgeous...I'm a big fan of those, too! LOL.
Well, again welcome to the group, I love your work and look forward to seeing your canes and you at the party.

---
Your canes arrived just a few minutes ago.
They seem lethal.
---
Thank you for making such nice canes and other implements of delicious 'torture'. I'll be watching the mailbox like a hawk. Thanks again!
---
Hello Fran...
The cane arrived on Thursday and was put to use on Saturday. All's I can say is wonderful! We've been using a birch Spencer paddle and a rubberized riding crop, but this cane certainly added quite a new dimension to the word pain. Took it up to 500 on the first day and the welts were/are wonderful. It probably won't be too long before we order another one. Again... thank you for a truly great product.
Regards
---
Just wanted to let you know that the canes arrived today. They are stunningly beautiful! I know that the ladies I give them to will be absolutely delighted with them, and that once they start using them, I probably will not, LOL.
Thank you for the beautiful work and quick delivery
---
I would like to say that I was the happy recipient of one
of your canes from a recent CASE party I attended. It has made it into my toy bag of regular usage and I look forward to purchasing canes from you in the near future to add to my collection. I never realized what a difference a rattan cane from a true expert can make as compared to a "bundle" of canes that I might buy at a show. My slave and I are very much into dragons, so I am sure that a dragon cane is soon to be added to our toys!
---
Hi, I got the cane today! Thanks Whyp! It is beautiful! Once again another quialty product from the best cane maker in the U.S.A! Thanks again!
---
i am sorry i am not going to see you at boston flea, since you are so much fun to be around, and also have the worlds best canes.
---
I saw your work at the folsom street fair in San francsico,
I was very impressed with your craftsmanship and creativity!
---
JUST WANTED TO ALSO THANK YOU FOR ALL THE PLEASURE SIR HAS RECEIVED USING YOUR WONDERFUL PLEASURE STICKS!!!
---
The cane has arrived it is lovely I like the way one can make the light dance off the crystal. I can imagine experimenting with the effect in between strokes.
I am delighted with the cane, it is beautiful to look at and has a nice feel to it, which makes me think it will have a lovely action in use.
---
whyp,
you have gone to painful length to create Me a wonderful piece of art which I will find delightful to use on a hungry submissive :)
---
I got the new cane! Thank you very much. I am sure i will get much enjoyment (cough) from it.
---
To the folks at Canes 4 Pain:

On behalf of the National Coalition for Sexual Freedom (NCSF), I want to thank you for your support of our work and our organization. Your donation of the leather pride cane set for our silent auction at BRXVII was much appreciated! The highest bidder was actually an NCSF staff member who is quite excited about the purchase!!
---
It's beautiful. I am sure I will enjoy it. The wrapping was very nice and I liked teh candy cane wrapping paper -- a nice touch.
---
Hi
Yes, she does amazing work. We purchased that cane in August of this past summer. It's as she says, wickedly delicious. We ordered it from Fla from www.Canes4painģ Whypdancer/Fran I think was her real name. I'm not sure what our next purchase will be from her but I know we will certainly do more shopping her way.
---
the canes arrived already, very fast. They are really great and we have already enjoyed them....
---
PS - I am going to continue to order canes from you - I want a collection that is awesome and I'm thrilled that you can custom design them. I have some stones that eventually I would like to send to you to incorporate into canes for me. They are small diamonds and sapphires - we'll work on that another day!! Thank you - VM
---
wanted to let you know that we found our package under the snow on the side porch. We are enjoying them very much.
---
Whypdancer, how can I not post your link dear..I visited your website and was awestruck at the incredible beauty and craftsmanship of some of these canes!!! The link is posted in the links section..and I may be one of your customers very shortly. I am especially enamoured by the "Crown Jewels" collection of canes. I can only imagine how lovely and Goddess like it would feel to wield one of those beauties
---
Hi,it's D in Santa Fe NM.I bought a cane from you two years ago and I thought you would like to know that it has given me excellent service and my wife's bare bubble butt many beautiful twin tracked welts.
It's amazing-so easy to use and SO effective Thanks again.D
---
Questions? Contact me at WhypDancer@canes4pain.com