's canes
are perfect for Corporal Punishment, Domestic Discipline, BDSM or Spanking, in styles ranging from 14k Gold, Sterling Silver and gemstone-accented works of art to the Classics- the Singapore Punishment Cane & Crook-Handled British School Cane, and everything in between. Whether your main interest is Domestic Discipline, OTK (over the knee) Spanking applications, or just some good BDSM play, you will find the perfect cane here!
Each cane is hand made by WhypDancer, exclusively from Premium Quality Rattan imported from Malaysia. I work with Malaysian Rattan because after years of testing, I feel its superb quality is the very best. Its fine straightness & flexibility allow me to offer canes of a consistently superior quality. Try them, I know you will love the difference made by this Premium Quality Rattan cane stock that I use!
Each cane is sanded by hand, shaped, decorated, perfectly hydrated, thoroughly saturated with pure linseed oil, and tested~by me. All Canes4pain® canes are brand spanking new. Strength and flexibility are tested on inanimate objects, never on flesh. Each cane is treated to achieve unmatched quality, beauty, & effectiveness. Your new canes are guaranteed to get attention, whether being shown off to your colleagues at a spanking party, for their style & elegance which is only matched by their ability to raise red welts. Either way, they will pass their colors & stripes test for you with flying colors!
Do you prefer your canes thin and whippy... ?
Thick and thuddy... ?
A Dragon Cane, Whangee, Beach Cane, Tiger Cane, Leopard, Twisted Loopy, Birch Rod, Crown Jewel Cane, or American Horror Story Cane-- it is all here, guaranteed!
Modern or classic... ?
whatever your preference, whether your new cane is for Behavior Correction/Modification, Domestic Discipline, Corporal Punishment- CP, Over The Knee- OTK, Spanking, and you are a Spanker and Spankee, Dominant, submissive, Master, Mistress, Dom, Domme, etc...

the Perfect Cane is here, backed by a lifetime guarantee !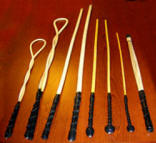 To contact us: email WhypDancer@Canes4pain.com