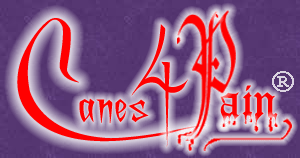 by WhypDancer

Shipping, Ordering, & Payment:




Canes4pain acceptsVisa, MasterCard, American Express, and Discover through our SSL-encrypted shopping cart.
There is NO need to write to request discrete shipping. ALL packages are shipped discreetly.

We ship in DISCRETE packaging almost daily by Priority or Express Mail (all with tracking) to ensure your new canes arrive quickly & safely. Our return address only has the initials "FCS/C4P", and the address. It does not say "canes4pain" or anything like that. I like to hear your comments on your new toy asap!

Shipping rates start at $10 for most items for Priority Mail with tracking, IN the US. Each additional item is $2 after the first item. The shopping cart sometimes doesn't figure shipping correctly. I will contact you so you know a refund to your credit card was done, or if additional charges need to be made. You will be contacted for confirmation before any charges are made to your card for additional shipping amounts.
International Orders:
I ship worldwide. Global Priority Mail (10 to 14 days) starts around $50. For special shipping requirements, or insurance costs, please inquire by clicking here: mailto:WhypDancer@aol.com
Multiple item orders can be combined and shipped together to save $$$. Only $2 for each additional item after the first, when shipped together.
The required customs declarations forms will be filled out, stating the items in the shipment are "decorative walking sticks". Please do not ask me to lie about the shipment's value on the Customs Forms. I can not pass canes off as hairbrushes, shoes, or cookies. I also can't properly insure the shipment if the items' value is not correct. Please don't request that.
---
Payment:





Items on the Canes4pain.com website have order buttons below their description. We accept Visa, MasterCard, American Express, Discover, and debit cards through the website. A window will open when you click the order button, and it will walk you through the very easy payment process. You will get an immediate confirmation by email, and I will follow up with expected shipping and delivery dates, etc when I receive your order. Orders are shipped the day payment is received whenever possible.

Money orders: Please contact me BEFORE sending a money order to Canes4pain® and I will give you the address.
Please use Canes4pain where you put the name of the recipient of money orders.

Questions? Contact me at WhypDancer@aol.com